Did you know that the Wild! Science Global Science Challenge is giving families (2 adults and 2 children under 12) worldwide the chance to win a trip to Orlando Florida?  The prize includes entry to Disney World and the Kennedy Space Centre to meet a real astronaut, accommodation to a 5-star Summer Bay Resort and car hire for 7 days plus a full set of Wild Science products.
This is how you enter:
Buy a Wild! Science Kit and send a scanned receipt copy with your online application. One entry only per kit purchased.
Download the form. Design and create an awesome new Wild! Science Kit.
Write and illustrate a basic instruction book to show other kids how to use your awesome Wild! Science Kit.
Upload your form and receipt via the website:  http://wildscience.net
So get your invention brain ready and buy the kit to enter!  It is available in good toy retailers like Smyths and Amazon. Good luck!
Wild! Science have a range of educational and fun collectable science kits that is suitable for children.  They are a great kit to get children to learn and explore important scientific concepts and skills.  If you have not heard or used a Wild! Science Kit before, why not check out this Perfume Factory.
Perfume Factory is suitable for children aged eight and above.  It comes with everything you need to blend your own secret formula scents.
The kit includes a scoop, 5 small bottles, 1 perfume bottle, 1 plastic tweezer, 2 stirring sticks, mixing pot, red ink, 4 packets of perfume paper, labels, sodium polyacrylate crystals, measuring cup, cotton balls, pump and booklet.  These items sit nicely in the pink storage unit.
The instructions are very clear and easy to understand by children. We first made the mint perfume by using the perfume paper.  We then placed it inside the pump and mixed it with warm water.  The rest of the steps are easy to follow.  We did have some trial and error and each time we learned how to make it better without spilling it!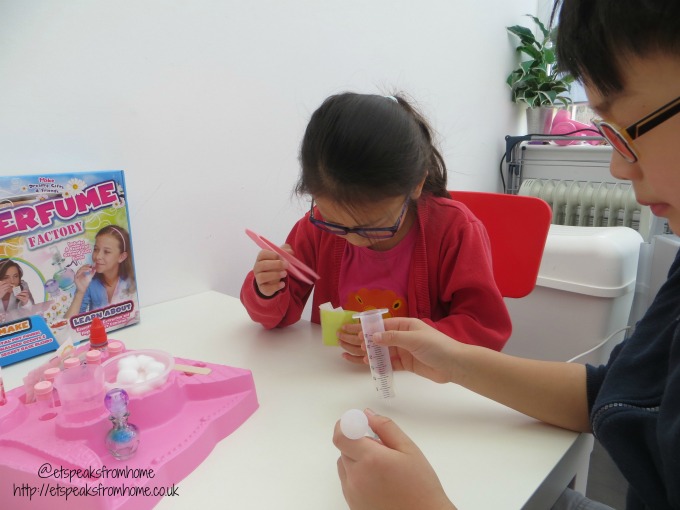 We experimented with different scent combinations and made three additional different perfumes and stored them in the bottles to use.  It is recommended that the Perfume is used within 2 weeks.  Both of my children enjoyed learning and making it.
Later, Mr K turned the Sodium Polyacrylate Crystals into a perfumed Ruby Gel Pot Pourri.  The smell is gorgeous!  They loved to watch how the crystals transformed into get and then seeing the end result.  Now we have it placed in the corner of the room to admire.
Here are some of the science kits from Amazon:
I like this kit as it has everything you need for the project and contains well explained instructions.  It is a good value for money that will make a good present for older children.
Disclosure: We received the sample for the purposes of writing this review, however all thoughts and opinions remain our own.  This is a featured post. Contains Amazon affiliate links.